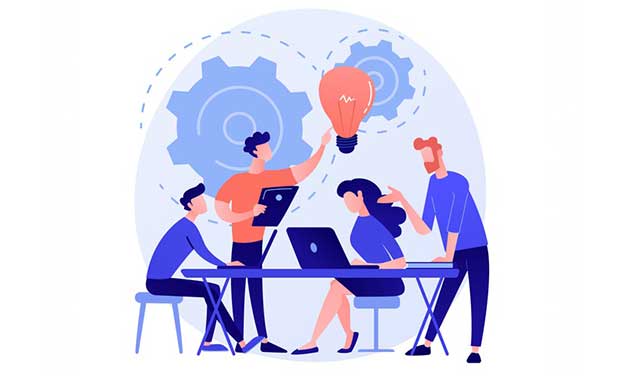 26 Dec

MSW

Master in Social Work or simply MSW is a 2-year specialized postgraduate course, consisting of macro and micro-aspects of professional social work practices in community, hospitals, schools and other fields of social services.

Anybody with a Bachelor's degree in any stream with a minimum of 50% (45% for SC and ST) is eligible to apply for this master in social work program.

The course is more inclined towards fieldwork training because of its direct application to the different sections of society, therefore MSW Syllabus mainly focuses on fieldwork and research training, apart from classroom training.

You have numerous opportunities after completing your MSW course. You can work in the government sector in departments such as healthcare, social services, human rights, etc. You can also choose to work for any local, national or international NGOs recruiting for a variety of roles.

The National Average Salary after MSW degree is INR 4.33 LPA which includes roles such as Program Coordinator, Program Manager, Social Activist, Social Worker, Human Rights Activist, Social Counselor, etc. Check MSW Jobs & Career for complete details.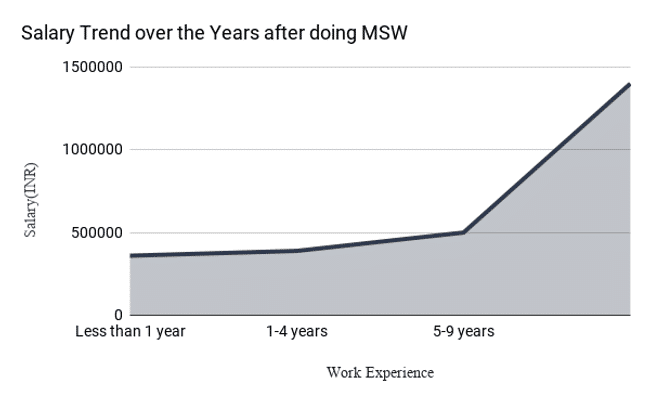 MSW: What is it About?
Master in Social Work (MSW) is:
A professional degree in social science which is aimed to teach students to utilize resources to eradicate the problems of society and try to alleviate their pain and problems through counseling, funds or different social methods.
A course that has several specializations like Labor Welfare, Human Resource Development & Management, Rural Reconstruction, Child Rights & Child Protection, Community Development, and much more.
Main Aim of this program:
The main purpose of presenting the Master of Social Work program in India is to enable social work practitioners to develop sensitivity, cultivate rights-based perspective, values and ethics, learn research skills, and build skills and competencies required for effective social work intervention in the society in different sectors, ranging from child welfare to sociology.
Graduates will be able to gain conceptual clarity, reflective learning, analysis, and critical thinking to do fieldwork, and also attain self-awareness, research skills to contribute meaningfully in various organizations and aspects of the society.
MSW Course Learning:
The course is made in such a way that both Classroom training and fieldwork is included in the course curriculum.
Classroom Learning includes theory lessons, group discussions, presentations, case studies, etc.
Fieldwork provides exposure to social realities and necessary work environments that you will go through in your professional career. It also teaches how to impart your theoretical knowledge in different sensitive cultural scenarios.
MSW Course Highlights
| | |
| --- | --- |
| Full Form | Master of Social Work |
| Course Level | Postgraduate |
| Duration | 2 years |
| Examination Type | Semester Type |
| Eligibility | Graduation in any stream |
| Admission Process | Merit-Based + Written Test, followed by Personal Interview and/or Group Discussion |
| Average Fees | INR 1-2 Lakhs |
| Job Positions | Social Worker, Public Welfare Managers, Consultants, Project Coordinator, Professor, Program Coordinator, Training Coordinator, etc. |
| Average Salary | INR 3-5 LPA |
| Job Sectors | Government Dept., NGOs, Global Counseling Centers, Health Industry, Human Rights Agencies, etc. |
Why study MSW?
Social cause:
The number of helpless, deteriorating and disadvantaged people in India is increasing day by day. Because of factors such as poverty, racism, unemployment, education, alcoholism, drug abuse, health and other vices, people are suffering daily all over the world.
To improve their lives in one way or the other, MSW course provides a start to social personalities to involve in their lives of people associated with that kind of social injustice, either directly or indirectly.
Master of Social Work is the only course that provides necessary training required to work in the different sections of the society in terms of social work, social service and social justice.
Career Growth:
After completing MSW course, you get employment in either the government sector, or in some NGO. These two sectors are the main employment sectors after this course.
In government sectors, you can get a job in the Ministry of Social Justice and Empowerment on a permanent basis or on a contract basis in job roles such as Coordinator, Program Manager, Fieldwork, etc.
In NGOs, you can work closely on different issues faced by the disadvantaged people and ensure basic health and social awareness among those people.
With experience and implementing successful plans, you can earn around INR 4-6 LPA. In international NGOs like Oxfam, Animal Aid, Mercy Corps, etc. you can earn more than INR 6 LPA after getting enough experience.
MSW Eligibility
The basic eligibility required is the following:
Completed Bachelor Degree in any discipline from a recognized college with a minimum of 50% marks(45% for SC and ST students)
MSW Jobs
The career opportunities for graduates of MSW are quite high. All jobs in this field are related to social service or charity work. There are abundant jobs in government sectors, NGO, educational institutes, rural areas, and many international companies.
It is possible for graduates also to work with educational institutions. After gaining enough spectrums in this field, students can work as consultants in many renowned organizations.
Common areas of work include:
| | | | |
| --- | --- | --- | --- |
| Clinics | Correction Cells | Counseling Centers | Disaster Management |
| Education Sector | Health Industry & Hospitals | Human Rights Agencies | Mental Hospitals |
| Prisons | Management Companies | Old Age Homes | Gender Issues |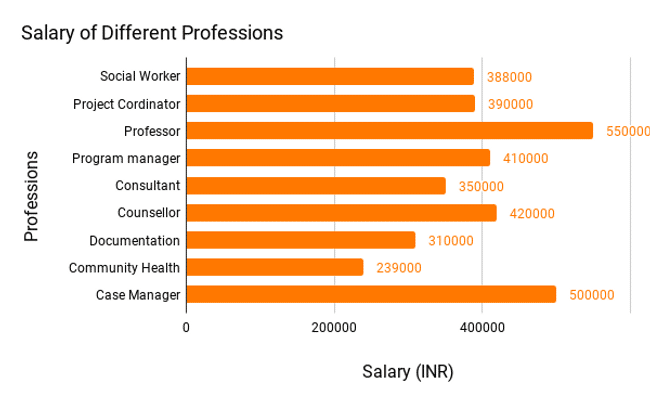 You can work with the govt. to ensure that basic policies and rights are being followed and formulated and practiced in different parts and sections of the society, especially among uneducated and underprivileged parts and people.
You can work in departments such as Ministry of Culture, Ministry of Human Resource Development, Ministry of Law & Justice, Ministry of Labour & Employment, Ministry of Social Justice & Employment, Ministry of Women & Child Affairs, etc.
If you want to go into teaching, you can clear the required examination like UGC NET and get employed as a Lecturer or Professor in central or state government colleges or institutes.
You can become a teacher or professor or a researcher in various schools, colleges, and institutes across India. To do so, you should clear the UGC NET to get a salary as per the govt. emoluments.
You can be hired as a Junior Research Fellow, Senior Research Fellow, Project Assistant, Professor, Assistant Professor, Associate Professor, etc.
Non Government Organizations (NGOs):
You can get the reputed jobs and opportunities while working for NGOs as well for a variety of job roles.
They work effortlessly to bring social justice and spread awareness in less privileged sections of society, both in the urban sector or rural sector. They fight for social injustice, poverty, animal abuse, caste discrimination, social discrimination, etc.
Top NGOs in India are TeachForIndia, Goonj, KISS Foundation, among others.
More Info: MSW Jobs & Career
A few of the reputed organizations that work for the socio-economic support as well as the welfare of the disadvantaged, orphans, people with disabilities are:
CINI
CRY
Department of Rural Development
HelpAge India
UNESCO
UNICEF
A short description of each job type is listed below:
| | | |
| --- | --- | --- |
| JOB PROFILE | Job Description | Average Total Salary |
| Social Worker | A social worker works for the upliftment of different spectrums of society to fight for a number of social issues and social evils. | INR 3.88 LPA |
| Project Coordinator | A Project Coordinator maintains all the information of project(s) assigned, and coordinates with everyone to make it efficient. | INR 3.90 LPA |
| Professor/Lecturer | A Professor is employed with schools or in colleges and they take lessons and do research work in different subjects of social work. | INR 7.50 LPA |
| Program Manager | A Manager is a top-level position who checks the proper functioning of that program to fulfill the aim, objects and all the targets. | INR 4.10 LPA |
| Consultant | A Consultant in an NGO or any organization gives ideas and solutions to how to go forward with a particular case. | INR 3.5 LPA |
| Counsellor | They interact with the victims of patients directly, and guide them with solutions or try to solve their problem. | INR 4.2 LPA |
| Documentation Specialist | These people take care of all the paperwork required in all the projects, programs and cases. | INR 3.10 LPA |
| Community Health Worker | These professionals are the main personnel employed to ensure community health in that area. | INR 2.39 LPA |
| Case Manager | He/she manages all the related work associated with the case on which he/she is appointed. | INR 5.0 LPA |
SYLLABUS